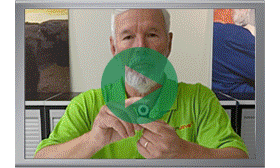 Join inventor and project
developer, Joseph Stute,
and his amazing, all-in-one,
palm-sized keyboard and
mouse input device.


Evolve with InputJive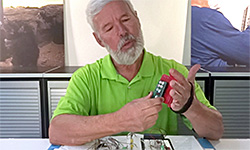 Inventor and project developer Joseph Stute with the Evolution 3 version of his InputJive, an interface he calls "one input device for all computing".

Inventor Joseph Stute invites you to consider a world without traditional computer keyboard and msouse input devices, a computing experience where the two fit comfortably within the palm, giving a user full input functionality without the constraints of typical mechanical limitations. After years of development, Stute has defined ergonomic excellence and revolutionary operational efficiency as he presents for the first time, a fully realized prototype that completes his vision and defies interface convention: the InputJive Evolution 3 Prototype.

Not satisfied with only bringing complete computer input to the palm of one's hand, Stute has a grander vision for the InputJive. He is currently engineering a model that includes a full functioning, spec-rich computer with WiFi capability -- all within a user's palm. He sees the InputJive evolving from one input device for all computing to one computer for all.

The patented InputJive is ready for production and movement into the marketplace.